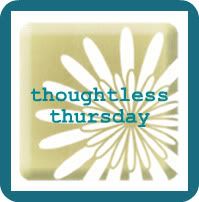 It's Thoughtless Thursday over at a new blog I found,
Life in the Fulmer Lane
. It is such a cute blog. You should check it out!
Ok, back to Thoughtless Thursday.....I think the point is to add pictures so you don't have to think about a post.....do I have the right idea??? Hopefully.
So I was debating on what pictures I would put on here and I remembered when my crazy dog did something a little crazy....
Meet Lexi (aka: LuLu)
She LOVES getting on warm clothes that are right out of the dryer......
Can you guess what that is around her waist???
*************************************
You got it! My undies!! She crawled into them. They're not just laying on her, they are actually around her!!!!
I thought that was too funny!
Hope you enjoy!
xoxo
-nicole